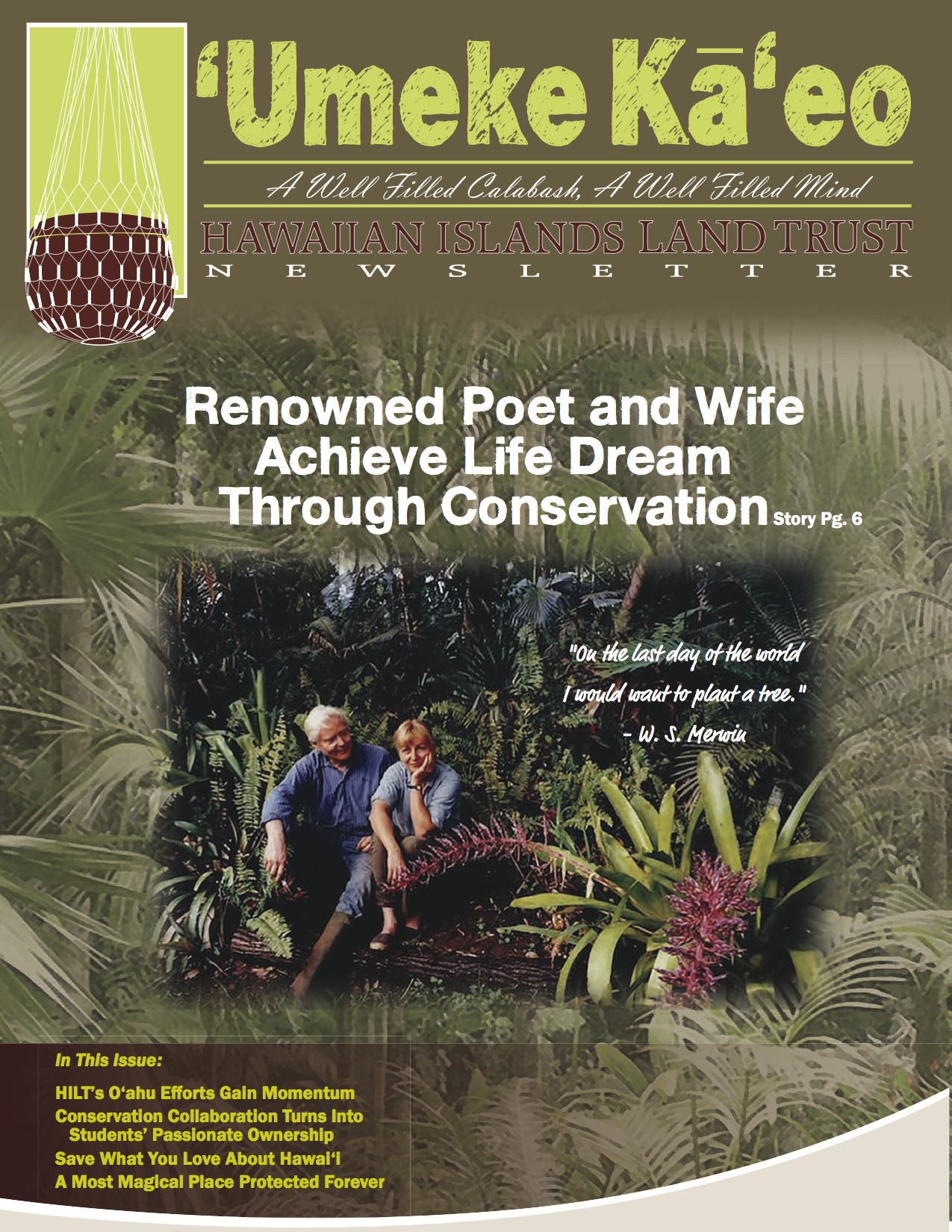 Membership Newsletter   |   Volume Four   |   Number Two   |   Fall 2014
Renowned Poet &
Wife 
Achieve Life
Dream 
Through
Conservation
When W. S. Merwin, a Pulitzer Prize-winning U.S. Poet Laureate and resident of Maui, came upon a parcel of land in the small valley of Pe'ahi Stream in Ha'ikū, Maui in the late 1970's, he found an agricultural wasteland with the soil decimated and eroded by a failed pineapple plantation.  Merwin set about a nearly 40-year journey to give back to the land, cultivating and creating a lush botanical garden, which today has become a dense forest of palm trees.  Hand planting seedling-by-seedling, tree-by-tree, day-by-day along with his wife, Paula, W. S. Merwin restored the natural environment, transforming a once-barren space into one of the largest and most extensive private collections of palm trees in the entire world.
The Hawaiian Islands Land Trust, along with the non-profit organizations The Merwin Conservancy and Copper Canyon Press, announced on October 14, 2014 the permanent protection of the Merwin Palm Collection near Ha'ikū, Maui with a Hawaiian Islands Land Trust Conservation Easement.
Click HERE to read HILT's Fall 2014 Newsletter.
Save What You Love About Hawai'i!
You can help keep more wahi pana, special places, in Hawai'i healthy and inviting for generations to come.  With one simple gift today, you can save the Hawai'i we know and love - one wahi pana at a time.
Click HERE to make your year-end gift to Hawaiian Islands Land Trust.
| | | |
| --- | --- | --- |
| HILT's O'ahu Efforts Gain Momentum HILT completed the purchase of the near 10-acre Maunawila Heiau property for permanent conservation in July of this year. | Conservation Collaboration Turns Into Students' Passionate Ownership In recognition of Earth Day on April 22nd this year, HILT and Kihei Charter School signed a Conservation Collaboration Agreement. | A Most Magical Place Protected Forever Fran knew she wanted to protect those magical trees and the land they grew on, so in 2014, she donated a perpetual conservation easement over her land to HILT. |
HILT Executive Director, Ted Clement, discusses HILT's renewed National Accreditation awarded by the Land Trust Accreditation Commission.  HILT's O'ahu efforts, conservation collaboration with Kihei Charter School, and HILT's new addition to its Kipuka Mosaic Project are also discussed.

About 'Umeke Kā'eo: 

Between meals Hawaiians would hang their calabash, full with poi and other foods, in an intricately made hanging net. They depended on these two items, the net and calabash, to keep their stores of food and water safe and unspoiled. 'Umeke Kā'eo, literally a well-stocked calabash, represents bounty and sustenance, not only for the physical body, but also for the mind and spirit. If the bowl is full, we are nourished. Hawaiian Islands Land Trust is committed to land conservation in Hawai'i. Protecting the land that sustains us—there's food for thought.