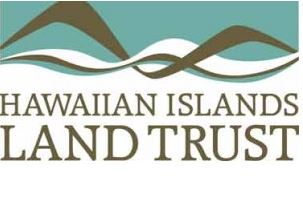 Letter from HILT Board Chair, Neil Hannahs
Aloha HILT 'Ohana,
I write to inform you that our Executive Director, Ted Clement, will be leaving the Hawaiian Islands Land Trust (HILT) at the end of the month to accept a position in California which will allow his continued professional growth and provide wonderful opportunities for his family.
On behalf of HILT, I want to thank Ted for his leadership and tireless service since joining our team in 2013.  Under his watch, much was accomplished to enrich our organization and advance HILT's land conservation mission.  Highlights include:
Achieved National Accreditation from the Land Trust Accreditation Commission in 2014;

Enhanced organizational infrastructure to sustain HILT's work (adopted critical policies, created important job descriptions, started an annual audit process, etc.);

Conserved the most new properties in a single year in 2013, doubled that amount in 2014 and set a pace this year to equal or surpass the amount of properties conserved last year;

Created and initiated popular community education and outreach programs which are connecting more people to nature, HILT and each other, such as HILT's Talk Story on the Land free public hiking and environmental education series and our Conservation Collaboration Agreements with local schools;

Started a HILT Membership Program and expanded HILT's donor base from under 400 donors in January 2013 to over 1,000 donors;

Raised the most private annual cash revenue in HILT's history in 2013 and then significantly surpassed that amount in 2014;

Established Land Acquisition and Legal Defense funds and doubled the size of HILT's Stewardship Endowment Fund; and

Launched a 5-year, $7.4 million Capital Campaign accelerate the pace of HILT's land acquisition work and raised almost $2 million in the first year.
We also took great strides forward in building the bench strength of our staff by hiring a number of highly skilled professionals and creating an Oahu presence.  This amazing team has the support of community leaders who bring extraordinary qualities and perspectives to our Board of Directors, Board of Advisors, Island Councils and volunteer groups.  It is an awesome collection of talent and commitment that will assure seamless leadership succession and keep HILT in position to complete current initiatives and attain new heights.
We are deeply appreciative of Ted's contributions to HILT and wish nothing but the best for him and his family as he takes on a new challenge.  We will keep you informed as we move through this transition.  As always, thanks for your support of our wonderful organization and its mission of protecting the lands in Hawaiʻi that will sustain us for current and future generations.
Mahalo, Neil Hannahs Board Chair
Letter from HILT Executive Director, Ted Clement
Aloha HILT 'Ohana,
I am so grateful for my work with the Hawaiian Islands Land Trust ("HILT").  It has enabled me to get to know and work with the numerous special people who make up HILT.  It has afforded me the opportunity to diligently serve this terrific organization and, with the good people here, help it grow and protect this incredible place.  Further, it has helped my family and I grow while living amidst the spectacular natural beauty here.  Thank you so very much!  With the significant growth at HILT, a strong staff in place set up to handle matters, and a special opportunity that was just offered to me, it is time that I move on.  Thus,

Tuesday, September 29, 2015

 will be my last day of work as HILT's Executive Director.
A land trust in California, which has been doing decades of great work in an area that benefits millions and millions of nearby people, has offered me an Executive Director position which I have accepted.  When I start that job in a few weeks, that land trust will make a public announcement so I will respect that process and keep the specifics quiet until then.
In addition to this opportunity to do a lot of good, this is also about family.  My oldest son headed off to college in California this past month despite our efforts to interest him in the University of Hawaiʻi.  We realized that we would probably only be able to see him about once or twice a year if we stayed in Hawaiʻi, and we view family time together as an important quality of life matter.  This new job will enable us to see our oldest son more regularly while also better helping him with the expense of college.  Further, the new job will enable me to see my brother, one of my best friends, more regularly as he lives out west and his wife is from California.
I am so grateful that we were able to accomplish so much together in my time here (January 2013 – September 2015).  It has been such an honor to work with you all.  HILT is made up of so many special people who will continue to help the organization grow and do great things in furtherance of its land conservation mission.  With heart-felt gratitude to you all!
Mahalo,
Edward Sortwell Clement, Jr.
Executive Director